Like most people, I sometimes struggle with healthy eating around the holidays. Chocolatey temptations lurk around every corner, and while I love creating fun and festive sweets, I don't enjoy the post-indulgence sugar crash. So over the years I've been simplifying my style. We still enjoy a treat or three, but I focus on easy healthy recipes (or I should say "healthier!") that utilize more wholesome ingredients.
This year, I'm pretty proud of my holiday-worthy spin on the traditional rice crispy treat. I nixed the sugar-bomb marshmallows and margarine, and bound the gluten-free organic rice cereal with homemade coconut butter and honey instead. Just like nuts, shredded coconut can be ground within seconds into a thick "butter" that helps the treats stay together.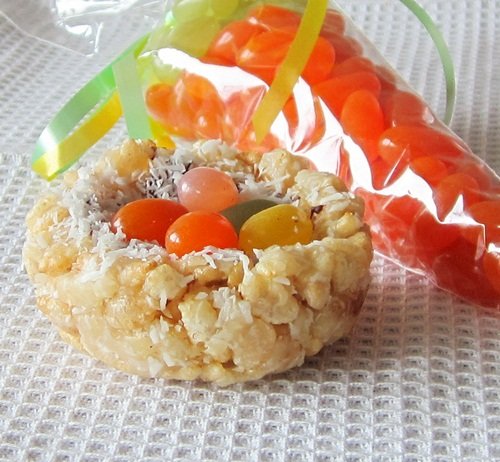 For a fun Easter spin, I shaped the crispy treats into "nests" using muffin cups, added just a touch of chocolate (you have to fit the chocolate in somewhere, right?), and for decoration, I filled the nests with Jelly Belly "eggs." When I'm able to resist the "eggs," these simple healthy treats double as a delicious dairy-free and gluten-free snack bar.
Oh, and one added bonus – these Easter crispy treats are as fun to make as they are to eat!
Who says nutritious dairy-free and gluten-free foods can't be extraordinary?
Coconut Crispy Treat "Nests" with Jelly Bean "Eggs"
Summary: These gems are sweetened only with honey (or agave for vegan) and are completely marshmallow-free!
Ingredients
1-1/2 Cups + 1/4 Cup Shredded Unsweetened Coconut, plus
additional for sprinkling if desired (about 2 Tablespoons)
6 Tablespoons (1/4 cup + 2 tablespoons) Honey or Agave Nectar
1/2 Teaspoon Vanilla Extract
2 Cups Gluten-Free Organic Rice Cereal
1/3 Cup Dairy-Free Chocolate Chips
Jelly Bellies or Jelly Beans, optional (colorful "eggs" to complete
the crispy nests)
Instructions
To start, you will need 12 muffin cups (or double that if using mini-muffin molds). I use silicone muffin cups (best investment ever!), but if you only have metal ones, grease them.
Place the 1-1/2 cups of coconut in a food processor or spice grinder (I use the grinding blade of my cheapo personal blender), and whiz until it begins to clump and turn into a paste (about 1 minute).
Add the honey and vanilla, and quickly blend again to incorporate.
Place the crispy rice cereal and the remaining 1/4 cup of shredded coconut in a large bowl, add the coconut paste mixture, and stir with a wooden spoon or lightly greased hands (I use my hands) to combine. It might be a little messy, but isn't that half the fun of making crispy treats?
Divide the crispy mix between the muffin cups and press the mixture into the bottom and just a bit up the sides with a shallow well in the center (think a "nest" for the jelly belly "eggs").
Chill the treats in the freezer for about 15 minutes.
Pop the "nests" out of the muffin molds, and if desired, round the bottom edges using your fingers to press and shape them into a nest shape. If you don't mind flat-bottomed nests, feel free to leave them as is.
Melt the chocolate chips in a small dish (I microwave them on high for 1 minute, and then stir vigorously until smooth).
Spread a small dollop of chocolate in the middle of the crispy "nests," spreading it gently in the well as desired.
Sprinkle the nests with additional shredded coconut, then place a few jelly bean "eggs" in each nest.
Preparation time: 30 minute(s)
Diet type: Vegetarian, Optionally Vegan, Dairy free, Egg free, Gluten free, Peanut free, Tree Nut free (though they do contain coconut), Soy free, Wheat free, Optionally Refined Sugar free
Number of servings (yield): 12
Copyright © Alisa Fleming.
Be well!
Alisa
Check out my latest posts
here
Comments
comments