Do you ever make a treat that is so delicious and so insanely addictive, that you have to swear you will never make it again? Something that should serve eight, but you and a loved one devour in less than 24 hours?
You can't help yourself.
They are just too easy.
They taste too darn good.
Loaded with chocolate, and oats, and seeds, and … wait a minute … according to WebMD (and the travel gnome, naturally) they are downright heart healthy!
So you proudly make them again …
Addictive Double Chocolate Granola Bars
Summary: The crunch of the granola in these simplistic bars is what sends this easy healthy recipe over the top. Technically, you can use any granola you like as the base; I've tried several different ones and even a simple, honey-sweetened, no frills granola produces delicious results. BUT, none could top the irresistible depth of using my homemade double chocolate granola, probiotic power and all (for good digestive health of course!).
Ingredients
1/2 Cup Chocolate Chips (I used dairy-free semi-sweet chips)
1/4 Cup Nut or Seed Butter (I typically use "chunky" SunButter,
but peanut butter and "heart healthy" almond butter also work great)
1-1/2 Cups Homemade Chocolate Granola (oh yeah, I've got an
easy healthy recipe for that too!) or Your Favorite Granola
Instructions
Melt the chocolate chips in a medium-sized bowl. I do this in 30 second intervals in the microwave, whisking well between each heating (usually takes just 60 to 90 seconds total).
Stir in the nut or seed butter until well combined.
Gently stir in the granola.
Press the mixture into eight to ten muffin cups that are greased if needed. I use silicone muffin cups, so they just pop right out without any prep.
Chill in the refrigerator for 30 minutes or more or the freezer for 15 minutes or more.
Try not to eat them all in one sitting.
I like to store them in the freezer for maximum crunch.
Preparation time: 5 minute(s)
Chilling time: 15 minute(s)
Diet type: Vegan, Dairy free, Egg free, and optionally Gluten free, Nut free, Peanut free, Soy free and/or Wheat free
Number of servings (yield): 8
Copyright © Alisa Fleming.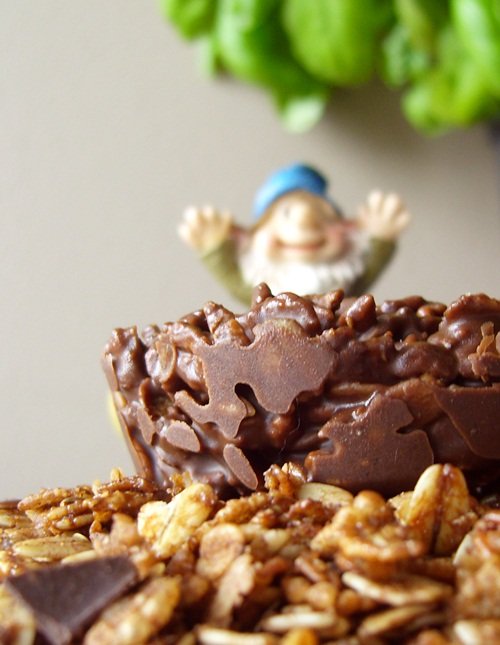 Be well!
Alisa
Check out my latest posts
here
Comments
comments