This month's recipe contest theme was a bit of a challenge for me. Whenever I think of crispy cereals, sweet recipes and images of rice crispy treats always come to mind. I had trouble, at first, switching my brain over to savory recipes. Thanks to some brainstorming help with friends, the simple healthy recipe ideas eventually started flowing. In fact, I had built up quite an impressive to-do list of savory kitchen experiments when tragedy struck.
Our oven died.
Let me rephrase that.
The oven coil snapped, and began burning itself to oblivion with sparks flying and scaring the bejeevies out of me. All I was trying to do was preheat the oven so that I could bake up some nice, easy healthy recipes for this challenge. But that just wasn't going to happen.
After some drama and freaking out, perhaps by me, the sparks were put out … but darn it, I don't have an oven. We are still a week out from getting the part needed (Seriously, with all of those big block hardware stores, you would think one would carry parts for an oven, but no!). And naturally, all of my healthy recipe ideas were for the oven.
So I moved onto plan B. Pan-fried. This recipe may be slightly higher in fat than the original oven-baked version I had planned, but dang are they good. I think I might just stick with the pan-fried version … after all, they're still lower in fat than deep-fried. And let's not forget, they are definitely more nutritious than rice crispy treats. Healthy by default, right?
Whether baked in the oven or cooked up in a pan, these crispy potato patties are full of flavor and easy to customize to your personal tastes.
Recipe: Crispy Curry Croquettes
(aka Mini Potato & Carrot Patties)
Ingredients
1/2 lb Peeled Russet or White Potatoes, cut into 1/2-inch cubes (about
2 medium potatoes)
1/2 lb Peeled Carrots, cut into 1/4-inch thick slices (about 3 to 4
medium carrots)
2 Teaspoons Coconut Oil (can sub dairy-free margarine if desired)
1 Teaspoon Curry Powder
1/2 Teaspoon Salt + 1/4 Teaspoon Salt, divided
1/8 Teaspoon Black Pepper, or to taste
1/2 Cup Frozen Sweet Corn, defrosted (optional)
2/3 Cup Erewhon Crispy Rice Cereal
2/3 Cup Uncle Sam Original Cereal (can sub Erewhon Cornflakes
or more Rice Cereal for gluten-free)
2 Tablespoons All Natural Mayo or Vegan Mayo
1/4 Cup Unsweetened Soy, Coconut, or Rice Milk
3 Tablespoons Flour (I used Whole Wheat Pastry Flour, but your
favorite flour – even gluten-free – will do!)
2 to 3 Tablespoons Oil (I used Coconut, but Olive or Peanut
would work great too)
Quick Creamy Curry Dressing (optional)
Instructions
Boil or steam the potatoes and carrots for 10 to 15 minutes, or until they are fork tender.
Drain the potatoes, place them in a large bowl, add the coconut oil or margarine, curry, ½ teaspoon of salt, and black pepper.
Gently mash the ingredients together with a fork until well combined. Stir in the corn, if using.
Shape the potato mixture into 16 to 20 balls and gently flatten them into little patties that are about ½-inch thick. They may be a touch fragile, but should hold together relatively well.
Place the flour in a bowl.
Whisk the mayo and milk alternative together in a second bowl, and place it next to the flour bowl.
Crush or grind the two cereals (I use my spice grinder to get a finer crumb). Place them in a bowl and stir in the remaining ¼ teaspoon of salt. Set that bowl next to the mayo bowl.
Now starts the quick little production line. Dredge one potato patty in the flour, dip it in the mayo mixture, then set it in the crumbs, and gently toss them to coat. Set the coated patty on a plate, and repeat with the remaining patties.
Heat the oil in a skillet over medium heat (I used non-stick). Once hot, fry the patties for about 3 to 5 minutes per side, or until golden and browned to your liking.
Place the croquettes on paper towels to blot off any excess oil.
Serve with some Quick Curry Dressing if desired.
Preparation time: 20 minute(s)
Cooking time: 20 minute(s)
Diet type: Vegan, Vegetarian, Dairy-Free, Egg-Free, Nut-Free, Peanut-Free, Soy-Free, Sugar-Free, optionally Gluten-Free and Wheat-Free
Number of servings (yield): 4
Copyright © Alisa Fleming.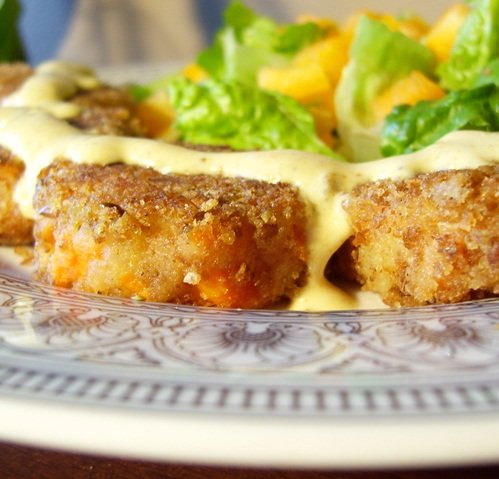 Be well!
Alisa
Check out my latest posts
here
Comments